Source: Hoch, Isabel. 2008. Page 76, 77, 95, 105, 157
Most Barcaldine residents had their first sight of an aeroplane in 1919. The Commonwealth government offered £10,000 for the first Australians to fly from England and the winners Ross and Keith Smith, W. Shires and J. Bennett crossed Barcaldine on 23 December 1919. A Union Jack flew from the water tower, a crowd gathered in the main street, whistles of the scour and the power house shrilled, as the plane approached. It 'sailed over the town at slow speed' and dropped weighted messages which fell near McLaughlin's scour. Signed by four men, one read: "All going well, Barcaldine' and the other: 'Longreach. 23.12.1919. The Manager, Western Champion, Compliments of the season to yourself and staff'. The whole thing seemed 'uncanny' according to the newspaper.
Within a year, residents were able to see several planes and to take joy rides. Men who had learned to fly went 'barnstorming' after the war, selling any products for which they could find sponsors. Captain Roy King and his mechanic, George Bailey put their plane down on the old claypan cycle track north of the town on August 24, 1920. Lines of cars defined the area, a smoke fire indicated wind direction and a T of white material marked the landing place. Excited crowds watched the touchdown and 12 joy flight trips at £3.3.0 each were made that day. The first to fly were Jack Hannay and Ted Smith. Smith's hat took 'a flight of its own' from the open cockpit. Jacky, a black trader, was heard to comment, 'My word, if that fella stop, not much to stand on to crank up again'. Later King and Bailey were presented with gold medals by the Shire Council for being the first aviators to land at Barcaldine.
Soon afterwards there were other planes. Captain Butler, representing Perdiau Rubber Co. landed in September 1920 on the claypan and Lieutenant Roberts selling peace loans put down in the showgrounds on the same day. Both planes were exhibited in the grounds with a silver coin admission given to Victoria Hospital.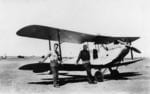 Biplane on claypan at Barcaldine 1920s-30s
In December 1921, McGuiness, a promoter of the first aerial mail and passenger service landed at Barcaldine. His visit created new excitement when he caught up the mail train at Lochnagar with a bag left behind by C. Foy en route to Sydney. The bag was dangled on a length of calico until the train stropped and it could be dropped in safety. The newspaper speculated that Mr. Foy would take many shares in the air service company.
Older residents remembered an American plane crash-landed on the old airstrip north of the town and it had to be extensively repaired, during the second world war, when an American Army Engineering Corp were camped at the showgrounds.
After the war, in 1947, £5,000 was spent by council to prepare the claypan on the north side for the town's first air service. on 6 April 1948, Aircrafts Proprietary Ltd. landed a big DC3 Douglas on the first commercial flight between Longreach and Rockhampton. Cars defined the landing area and Plumb's lorry was used as steps to reach the cabin. Jerry Bashford was the town's first passenger. The services ran about once a week but were not regular. Fuel shortage was a problem and flying only for the affluent. However, by 1952, £7,500 was spend on a new aerodrome and in 1955 it was ready for bitumen surface. By 1956 Queensland Airways Ltd. ran three Fokker services a week between Rockhampton and Longreach and by 1965 the strip was equipped with lights. But changes of schedules and contracts remained a feature of Barcaldine's air service despite continual improvement of aerodrome facilities.
To make western services pay has always been difficult. In October 1964 N. Harris of Queensland Airlines was told by Barcaldine councillors that the way to increase passenger use was to provide cheaper fares, but since that time fares only became dearer and passengers fewer.
Qld. Airways ran three Fokker services a week i 1957; by 1985 Barcaldine had no air service at all.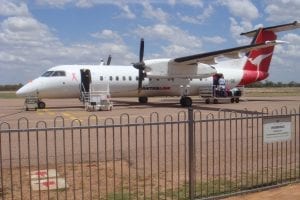 By 2008, there was a QantasLink air service three times a week between Barcaldine/Longreach/Brisbane, with economy fares available.